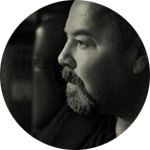 A battle-scarred creative director who cooks, styles and takes photos.
I'm a designer and art director with 30 years experience in the creative industry and a director and owner of PRC; an award-winning design agency specialising in packaging and branding for consumer goods. This is my weekend fix - cooking, styling, recipes and photography. Everything on this web site was created in a little kitchen, in a caravan which isn't much bigger. All in the heart of The Trossachs, Scotland.
Wee Social Rascal
The latest musings from my Instagram account. Follow me
@weerascal
.